From August 19th to the 21st, hundreds of international companies gathered at The International Centre in Toronto to show off their latest garments to Canadian suppliers for the fourth annual Apparel Textile Sourcing Canada (ATSC). The renowned trade show brings together retailers, wholesalers, e-commerce resellers, and manufacturers in dozens of product categories from around the world.
Organizers say this year was its most robust, welcoming some five hundred exhibitors, and more than five thousand attendees – including foreign dignitaries and government officials. More than thirty seminars on the topics of trends and markets were offered.
Designers and manufacturers were featured from twenty countries, including Ghana, Turkey, Ukraine, Bangladesh, India, Peru, China, and Australia. According to the convention organizer, they come to exchange new sources, products and ideas.
"Our goal is to connect, inspire, engage, and administrate. When you come to one of our exhibitions, you are able to see so much in front of you that sitting behind your desk doesn't provide," said Jason Prescott, CEO of JP Communications, show producer, and publisher of North America's leading B2B trade platforms TopTenWholesale.com and Manufacturer.com.
Toronto was chosen as the inaugural location four years ago because it "is a financial epicenter of North America. It is ginormous in terms of what it supports for retail, population growth, immigration, migration, for overall retail consumption," noted Prescott.
He continued, "It's an extremely fashion-conscious city, but there was no infrastructure for production or sourcing. You had Torontonians and Canadians who were having to go to Las Vegas or New York and meet with a supplier that wasn't even relevant to the Canadian market.
"That meant, at times, Canadian and international suppliers may not have necessarily been able to do business, due to their conflicting trade agreements," he added.
The director of Australia-based Village Arts Company, who calls himself "Mr. Ali," says he gained "knowledge about the North American market." As one of the exhibitors, Village Arts displayed an array of ladies' purses, just a few of their clothing, and leather products from craftspeople in India, derived from ethically sourced materials.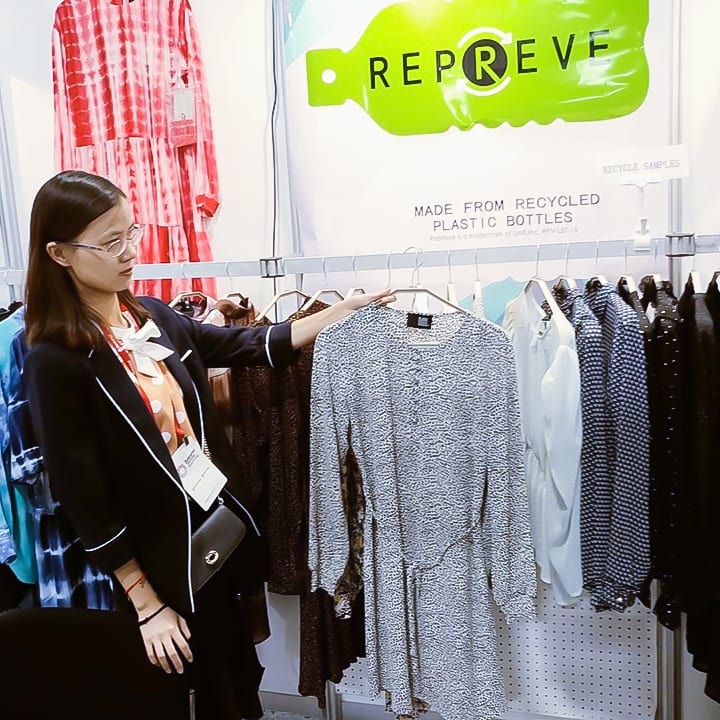 "Sustainability and eco-friendly production are 'hot topics,' a focus of many exhibitors' wares," said Prescott. Form sweaters, for example, are designed in Canada and crafted in Peru from biodegradable and renewable alpaca yarn.
Meanwhile, representatives of Repreve (manufactured by Unifi) demonstrated their nylon, polyester, and cotton fabrics created from recycled plastics, collected within 50 kilometers of coastlines in countries that lack formal waste, or recycling systems. The company boasts that nearly 20 billion plastic bottles have been recycled to make apparel and clothing items, such as swimwear and undergarments sold by brands like Jockey, Patagonia, and Quicksilver. Walmart employee vests are reported as next to be on the conveyor belt.
According to Repreve, each year, nearly nine million tons of plastic end up in the ocean, which they say is the equivalent of dumping the contents of one garbage truck into the ocean, every minute.
In a similar vein, Oeko-Tex was on hand to promote how they are an independent verifier of environmental-friendliness, encouraging socially responsible workplaces. They check and validate responsible handling of chemicals and allergen-free products. Their roster includes some 10,000 manufacturers in 100 countries, and more than 160,000 certificates issued since 1992. Their app allows users to trace their article's supply chain in a transparent manner.
A new feature for ATSC in 2019 was the Fashion Lab, attracting small businesses and designers who sought advice on various entrepreneurial questions. They were on-site and networking with top industry experts and fashion influencers to discuss topics such as how to launch a brand, online marketing, emerging technologies, and sustainable solutions.
According to Prescott, there is a "need for a global fair such as ATSC, to enable industry players to make international business connections, network and get educated on navigating the new realities of the world's sourcing ecosystem."
Other ATSC conventions premiered consecutively in Montreal, Berlin, and Miami.
Dave Gordon | Contributing Writer