Manjit Manhas
SUCCEEDING WITH COURAGE AND WILL POWER
CONVERSATION WITH MANJIT MINHAS
Born and raised in Calgary, Manjit Minhas went from studying Engineering at the University of Calgary to becoming the "beer baroness."
By Author: Jennifer M. Williams
At just 19, she co-founded Minhas Breweries with her brother, Ravinder. The upstart company quickly grew to challenge the established big names in the beer business, becoming the first new company to successfully enter Canada's brewing industry in decades.
Now Minhas Breweries, Distillery and Winery has over 90 brands of beers, spirits, liqueurs, and wines available in Canada, the U.S., and 15 other countries spanning Europe, Asia, and South America. Manjit is also an accomplished speaker, and co-author of the book Brewing Up a Damn Good Story.
In 2015, the CBC gave her the opportunity to join the cast of Dragons' Den, where she's  been advising – and investing in – would-be entrepreneurs ever since.  She  spoke  with  The Edge to share some of the knowledge she's gained on her journey as a trailblazer, an entrepreneur, and a mom.
What was your journey like going from the University of Calgary to buying one of the oldest breweries in America with your brother?
Well, not a straight line definitely, it didn't happen from here to there. There were many years in between. We started in the spirits business in 1999 and we wanted to bring in high-quality spirits at an affordable everyday price, first to what was my parents' liquor store – they had three stores in Calgary – and then after that to the masses, which was first Albertans, and then Canadians, and then Americans, very quickly.
You know in this day and age, when people say that they want to start a brewery or a distillery, they actually physically mean bricks and mortar; that was not our thought and that was not our plan then, for a variety of reasons, but mostly because we didn't have the money to do that. It takes millions of dollars, and there was no such thing as VC firms or loans for young people back then like you can get now to be an entrepreneur, it was a really rare thing to get to do.
Being born and raised in Calgary, my plan was to be an engineer and maybe have a side hustle that supplied great products to my parents' stores and make money on the side. (It wouldn't have been called a "side hustle" at the time, it would have just been a business back then.) Sales really drove demand for the products, and that's when we really started to get on the map, not only with revenue but also getting noticed in the industry. We were actually making money when we got into the beer business in 2002, and so for the three years prior to that we were doing fine, [my brother and I] were still in university, and so once we got into that and the engineering seemed to be kind of falling by the wayside, that's when things really started to develop for us for a variety of reasons. One because there's just a lot more volume and fewer players in the beer market, so we started marketing and advertising, we started expanding.
We were always getting our products produced for us in the U.S., and we were shipping to Alberta and everywhere else after that. And other than the extra shipping costs there was no difference as to where we were making it because nobody in Canada would talk to us. The Canadian market was always very different in that producers always thought they were creating their own competition if they dealt with us and the Americans don't think that way. We grew our sales, we got great retail partners and grew in the U.S., and we were doing well. And then we got enough cash in the bank – we're a little old school the way we were raised, to spend only what you earn and what you have in the bank – and so when we had enough in the bank we bought [the Joseph Huber Brewing Company] in 2006 and then expanded it for our needs. We really felt at that time that we needed to own the manufacturing. There are a lot of things we wanted to do and have control over, and when you get to a certain size you need to control manufacturing because you could be out of business really fast if someone decides, as a supplier, they don't want to deal with you anymore.
We also noticed very early on that we were going to be a sales/marketing/branding company as well as a manufacturing company because they're two very distinct businesses. A lot of people forget it takes a lot of work to make a product and
"You live and you learn, and some things are worth your time and energy and some things are just an experience, and that's okay too."
develop it before you sell it, which is a totally different job. It was definitely a great key to our success that for seven years we were able to concentrate on building our core brand as well as building multiple brands in different markets before going back and becoming experts in manufacturing and creating all the efficiencies there. Multiply that over and over with the different breweries and distilleries that we own, and then a winery, and it's not a journey that was planned. I always have a plan, but my business plan has probably changed about 12 times in the last 20 years, and I think that's what great entrepreneurs do. They look at what markets demand, what consumer demand is, what regulations are, and all those things help guide their journey.
Our journey has been fabulous. We definitely had a lot of bumps along the way, failures, tough times entering different markets, lobbyists from the other side that have definitely been a challenge, but we still deal with them every day. There have been lots of different challenges in different markets, whether they be regulatory, with competition, or even internal; when your company gets to a certain size you have a lot of other challenges internally to deal with. That's the thing about being an entrepreneur, no two days are the same. It's always an interesting journey. The journey wasn't a straight line from being an engineering student to owning a physical brewery, but when I look back it's been an enjoyable one.
You had to jump through some additional hoops to get your company's products to all the places you wanted. What did you learn dealing with that adversity?
I learned that I'm a lot stronger than I ever thought I was. I've built a very thick skin because failure not only hits a team and a company, but as the leader of that, it hits you personally too. I learned how to pick myself back up every time, because as your company grows you very quickly understand that there are a lot of other people relying on you for their paycheque, to put shelter over their family's heads and food on the table. It also taught me to figure things out on the fly as well as what my values in business are and where I draw the line.
The most important lesson that twenty and thirty-somethings can learn is that life's not fair, and that's okay. It's a tough lesson to learn, but it's a lesson nonetheless and I think the sooner people learn it, the better. Life's not fair for a variety of reasons; no matter what I do there's three things always against me: one, I'm a woman in a male-dominated industry; two, I'm a visible minority; and three, I'm young and I'm going up against companies that, no matter what country or territory or province or city, are dominated by the "old boys club" that, in some cases, has been around for centuries.
When we entered the market we were very naïve in thinking that we had a superior product and a superior price, so why wouldn't people want to deal with us? Very quickly we learned it's not as simple as that in the world of business, and a lot happens behind closed doors that isn't really talked about. I think that's a lot of what I bring to the last four years and the upcoming fifth year on Dragons' Den, to open the eyes of entrepreneurs to say, "Hey, you might have the greatest product on Earth, however you have to get it to your customers and into their hands, and you have to get people to pay for it." That's a very tough journey and it's not a straight line. I think that's the hardest thing for first-time entrepreneurs to understand, the lay of the land.
As an entrepreneur you have to face challenges every day, so it's really important that individuals realize that it's an exciting journey but it's also a tough journey. I always say to people, it's 350 days of challenges and adversity but 15 days of glory, and that's what we live for: those 15 days of glory.
In addition to running your business, you've done some keynote speaking as well. What do you enjoy about speaking?
I really enjoy getting out and meeting different people, young and old, men and women, in the corporate world or young entrepreneurs, mothers running businesses like myself… it's
nice to get out of my normal peer group. I find that if I impart some of my wisdom and knowledge from my journey and experiences, I get the same thing from that. It really is a give- and-take relationship and I do it a couple of times a month. As much as I can I try to fit it into my schedule because I find it really fun, and also I'm always looking for a challenge – I love to get outside my comfort zone because I think that's where a person grows the most.
We all evolve in many different ways in our lives and take on new things, which I'm always doing, so I hate when people ask me, "Where are you going to be in five years?" I hate that; I have no idea. I have six-month goals, one-year goals, for the company and for myself, and I have five-year goals, but it's never what I imagine. If you asked me five years ago if I thought I'd be on TV every Thursday night giving entrepreneurs advice and investing millions in them, I'd say "no way," but hey, look where I am. If you asked me 10 years ago if I'd have two little girls and still be living in Calgary, I'd say "no way." I had different thoughts about where my life would be, so I think it's important to consciously take challenges and make decisions and always be open to what comes your way, because you never really know.
I'm someone who says "yes" to a lot more things than I should because I want to try new things. Which is not to say that it always works out, but I never want to say "should've, would've,
could've." You live and you learn, and some things are worth your time and energy and some things are just an experience, and that's okay too. It's important that we get outside our comfort zones, and that's what speaking was for me.
You've won awards and have been featured on lists like the Top 100 Women Entrepreneurs in Canada. How rewarding has it been for you to receive these kinds of honours after all the work you've put into building Minhas Brewery?
It's always humbling and exciting, to be honest, to win any type of award. Especially an entrepreneur award, they mean a lot, and from women's organizations and business communities, because they all have different meanings and it's nice to be recognized.
It's something most people don't get to receive or achieve, so I value every award that I've gotten very highly, and I take time to be gracious and have gratitude for the individuals that are involved that nominate and choose me. I love being able to go out and enjoy the events associated with them and learn from other really great entrepreneurs and hear
their stories and their journeys, and in a lot of cases make longtime friends because something people don't realize   is that being an entrepreneur is lonely. You're dealing with your own business all the time, you're the leader, you have to make the decisions, and a lot of the time you're enclosed in your office. The rates of depression among entrepreneurs are skyrocketing because being an entrepreneur is solitary. When you're working a 9-to-5 job you're in big groups and teams with lots of people, but for most entrepreneurs it's very lonely. You're usually travelling and making decisions by yourself, so it's really nice for entrepreneurs to be able to get out and mingle, network, and have a good time socially.
Many say that being an entrepreneur is more than a full- time job, but you're also a mother. How difficult is it for you to find the right balance between work and family?
I definitely haven't found it, and anybody who tells me they have is lying. It's B.S., because there is no perfect day, there is no perfect amount of time you can spend in both worlds when being an entrepreneur, because in order to have a successful business you have to eat, sleep, and breathe it. You have to work harder than the next guy in order to make the sale, to develop the right product, to get the right price, the right distributor, the right team. It's always ongoing; there is no balance.
What I believe is having no regrets, just understanding that  I love what I do, and I think it makes me a better mom and wife being an entrepreneur, and being a mom and wife makes me a better entrepreneur. In order to be a great parent and spouse as well as a great entrepreneur you just have to live in the moment wherever you are and at the end of the day have no regrets. The way I do that is by having a great support team at home and at the office.
What was it like when you were offered the chance to join Dragons' Den?
Oh, I was thrilled. I had been an avid viewer of the show and really thought it had done some great things for entrepreneurs. It's great for viewers to understand business and to understand how to pitch and make sales, and it's a great outlet for creativity.
So yeah, I'm thrilled they called me to come down to do a screen test. I enjoyed it, and they liked me. It was a room full of other great, notable entrepreneurs and two weeks later we started filming. That was five years ago.
It's been an amazing journey, I've met some amazing entrepreneurs, and I've invested in some amazing entrepreneurs
– 31 to be exact – and it's been not only financially successful and a great return, but also I've personally met some great Canadians and been involved in some really great industries and products that I otherwise never would've ventured into. It's hard to believe that that much time has already passed; the old saying that time flies when you're having fun is definitely true in this case.
What's changed for you and Minhas Brewery since you've been on the show?
A lot. More concentration in the Canadian market; we were definitely growing and expanding a lot in other parts of the world, so definitely with the recognizability factor of our Boxer brands in the beer space and many others such as our Irish Cream liqueur, or our gin or whiskey brands that are available everywhere. There has been great recognition, and that's been nice because it's kept me closer to home and concentrating on the Canadian market for our own sales and opening the facilities in Canada to service those markets. It's been great for Minhas Breweries and Distilleries to get that recognition, and for me it's interesting to be noticed and recognized everywhere I go.
It's been amazing to see the letters and emails that I get, and it hits close to home when I see women – especially young minority women – who finally see themselves on TV. That was big too, for others to see that if a young Indian woman can make it in the beer industry, you can make it in whatever industry you want to be in. We all know that there isn't enough representation of women on the show – one out of five is ridiculous – and also no minorities, which was not reflective of the Canadian business scene and entrepreneurs in this country. So I was definitely happy to be not only a champion of that but to be able to tell my story and hopefully inspire women of all ages to follow their dreams, because if I can do it and stay true to who I am in terms of morals, values, and even as far as what I look like – I didn't succumb to the pressures to do things like become a blonde, I've stayed true to myself – then it shows them that they can do it too.
For a successful entrepreneur like yourself, what's it like to be able to pass your knowledge on to people looking to walk a similar path?
It's really rewarding. I have two little girls and I see the world through their eyes now, and I think that it's one of the things that I had to learn on my own by putting myself out there. If I'm able to help save somebody from making those mistakes and having those heartaches, I am definitely willing and happy to do so. I think a bit of heartache is good to have, but not as much as I've had over the last 20 years. Whether it's dealing with misogyny or racism, there's just so many things that I have faced that I don't wish upon anyone. So I think if I can help anyone navigate that or at least open their eyes before they begin that journey, I think that's helpful because I didn't have that when I started.
How important is having a mentor? Did you have one along your path to success?
I've had many mentors, men and women. One individual in my industry from the U.S., he was one that I pursued diligently after the first time I met him, right when we started. And I've had so many; I believe that [mentors] should change as your needs change as an individual.
Then I flipped the script and I became a mentor to many young women, helping them find their passion, guiding them through their journeys to break those glass ceilings that they're dealing with, or just being there to listen to. I definitely believe in the power of mentorship and it being something everyone should have – not just entrepreneurs – in their careers and in their lives. It's really valuable to know that there's someone to listen to and learn from at a particular point in your journey. Sometimes it's nice to have someone who's been there and done that to just listen and be a brain to pick, because no two journeys are the same. It's also nice to be able to understand the real world from someone who has that experience.
How do you incorporate social responsibility into what you do?
I strongly believe in social responsibility because I understand that we make products that people can enjoy irresponsibly if given the choice, and so I decided a long time ago that I was going to put management warnings on all our beer products. It's not mandated by law in this country, unfortunately; I tried very hard to get our federal government to do that because I think it's important that anyone consuming alcohol be reminded they should be responsible, that they shouldn't drink and drive, and that pregnant women absolutely should not drink. There's a lot of science to prove all those things and I think it's very important that everyone in the industry promote responsibility.
I know I can go to bed at night and put my head on my pillow knowing I've done everything I can to make sure that people consume our products responsibly and in a time of joy, in times of socialization or relaxation, but they're not harming themselves or others. The management warnings we put on our products were important to us. We were the first beer company ever to receive an award from an organization that deals with fetal alcohol spectrum disorder (FASD), we've always advocated for that. Unfortunately, it's rare for beer companies to acknowledge that fetal alcohol syndrome exists and that women should not consume alcohol when they're pregnant. I strongly believe in recognizing the pros and also the cons of the products we put out into the world.
Next Profile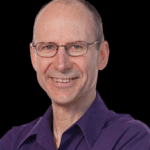 Stephen Whiteley
Stephen Whiteley is the master of your inner world. He considers this to be the new frontier and he can truly shift people's inner energy all the way up to the emotional freedom of enlightenment.