Andrea Olivera
While many may not know about Ayurveda and its benefits, the word is spreading fast Canada-wide and it's in no small part because of Andrea Olivera – one of Canada's premier Ayurveda wellness and education experts.
What is Ayurveda?
Ayurveda is an ancient healing and therapy practice from India and the sister-science of Yoga. It examines the mind, body, spirit dynamic, their relationship with biology, nature, and the cosmos. More importantly, Andrea highlights that her integrated approach is to place Ayurveda's unique focus on self-knowledge as the platform to inspire healing and balance both internally and externally.
The more popular and familiar Ayurveda services are collectively called Panchakarma. They're five treatments that are regimented in a series of sessions, using various bodywork and detox techniques such as warm oils, yoga, and Ayurvedic massages. Ayurveda is not shy to look at 'you' as a complicated whole, mind, body, and spirit.  Andrea notes that Ayurveda is about utilizing its vast knowledge to enhance and maintain physical, emotional, mental, and spiritual balance in addition to offering medical and healing benefits.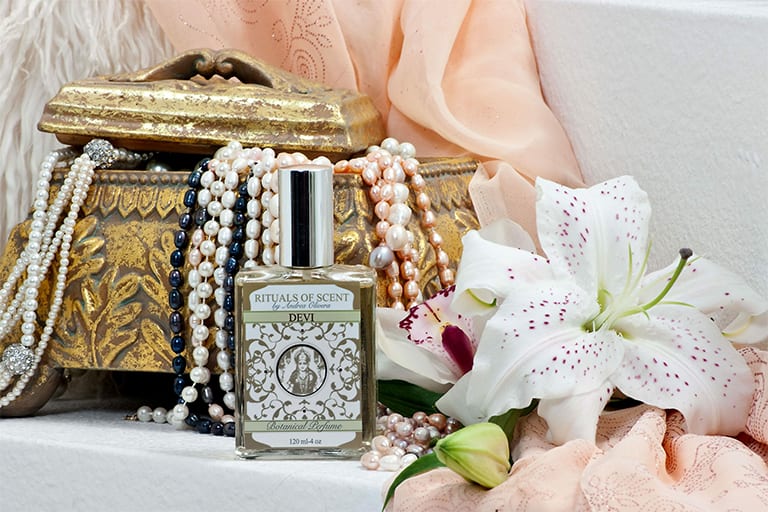 The Ayurveda Body & Personality Types
Andrea explains that in Ayurveda, there are three doshas, or mind/body types—kapha, vata, and pitta – and each of us can express a mix of all or predominantly one of them. Vatas tend to be light, dry, changeable, anxious, and creative. Pittas are muscular, oily, determined, fiery, and controlling. Kaphas tend to be giving, compassionate, stagnant, dependable, caring, and romantic.
Integrating Ayurveda into Spa services and Healing
Andrea started integrating Ayurveda in the spa world 30 years ago. The Andrea Olivera Centre for Ayurveda Rituals is the first Ayurveda-focused wellness spa in Toronto. It offers an authentic, healing, and exquisite space for people to experience Ayurveda rejuvenation. Without having to go to India for a similar healing experience, her approach actually attracts many people from across Canada and the US to either experience or learn the Andrea Olivera Ayurveda Method™.
Andrea's Ayurveda Urban Retreat™ model was put together especially for people who don't have the time to set aside long retreats away from Canada. The model captures the idea that people can come to Toronto and be guided on a healing pilgrimage through a variety of flexible options. People can choose to seek a half-day pampered spa experience, a weekend fully integrated Ayurveda healing session, or a combined fully integrated local spiritual pilgrimage that includes Andrea's Karma Emotional Release™   session. It also includes Vedic Astrology, and travel to highly energized local temples and cultural centers in a safe and exclusive manner. Some who are more local complete a series of weekly sessions. Her services, like Emotional Karma Release and Vedic astrology sessions, are also accessible from a distance.
"Ancient cultures all understood the importance of rituals, pilgrimages, sacred healing spaces, baths, and ceremonies for our mind body and soul to heal our trauma, pain, and stories."
All services use Andrea's personally formulated line of natural and organic botanical skincare products including facial masks, rejuvenation serums, hydrating sprays, body oils, and perfumes. Andrea has blended her products to include the healing powers of Ayurveda with the best globally sourced essences and ingredients that better match our North American constitution.
Face-to-Face and Online Ayurveda Training
As an educator, Andrea offers her Ayurveda Rituals Spa Specialist Training Program, face-to-face and is preparing an online version of her modules. The courses teach her several very popular techniques like integrated Ayurveda Facial, Indian Head Massage, Abhyanga Massage, and more, as a way for people to begin their journey into becoming Ayurveda practitioners. She has trained hundreds of people from across Canada including spa specialists, estheticians, registered massage therapists, yoga teachers, and anybody looking to enter the world of healing. The courses are divided into modules that can be completed over a series of weekends, night-time, or fully as a one-week intensive. Online modules are self-directed and include coaching and mentoring sessions with Andrea directly.
Please call (416) 504-6049 or visit in person to set up a complimentary 20-minute consultation to discuss your healing needs, or to customize a Toronto Spiritual Ayurveda healing retreat with our team of specialists.
Next Profile
Tommy Hilfiger
Tommy Hilfiger is not merely a globally recognized name brand - it epitomizes the fashion-forward lifestyle.